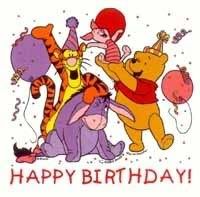 Ok, yes it is my birthday today! And what a great one it should be. I awoke to the great aroma of fresh coffee brewing. Thanks to my wonderful husband of 25 years, Mike. Seems he does love to surprise me with the thoughtful things that he does.
Anyway, my day will hopefully be one of where I can do prety well what i want to do. Which is just be lazy! LOL No seriously I will be in and out of the house running erands. Then getting ready to go out for dinner tonight!

I must though thank my wonderful late Mom for giving birth to me. Cause if she had not then I would not be here. Plus my Dad ( who is 81 years old) for helping make it possible. Lord bless him, these last couple of years have not been too easy on him. More so since losing my Mom almost two years ago. Still though I must thank my other family members for putting up with me too! Believe me it has been no easy task for them! And they surely can attest to that!

All in all I am looking forward to many more birthdays, and the chance to share them with my family and friends. So I must now go get ready to run around in this cold, frigid winter weather. Just know I am going to have an awesome day. Take care everyone. Will post more later on this week/weekend.

Bye for now.....